Package Details
(4) CHAR DHAM YATRA 10NIGHT 11 DAYS..
YAMNOTRI
GANGOTRI
KEDAR NATH
BADARI NATH
(2) DO DHAM YATRA 5NIGHT 6DAYS..
YAMNOTRI/KEDAR NATH
GANGOTRI/BADARI NATH
PANCH KEDAR 17NIGHT 18DAYS
KEDAR NATH

Located at a height of 3,584 metres, Kedarnath temple is set in a spectacular background of snow-clad peaks and forests. It is in Rudraprayag district of Uttarakhand and occupies a prominent position among the Panch Kedar temples. The temple houses a conical shaped Shiva lingam which is considered to be the hump of Shiva. Present temple, built with grey stone slaps, is said to be established by Adi Shankaracharya in 8/9th century A.D. Nearest motorable road towards Kedarnath is Gaurikund. After which a trekked path of 14 km is taken to reach the shrine. The trek, though mainly steep, takes one through wonderful landscapes, keeping the spirits of pilgrims soaring at all times.

TUNGNATH

At a height of 3,680 meters lies the highest temple of Shiva in the world. In the Rudraprayag district of Uttarakhand, Tungnath can be reached by indulging in 4 km (approx.) trek from Chopta. It is here that Shiva's arms have said to appear. A moderate trek, walking on the paved path towards Tungnath will provide vistas of splendid peaks such as Nanda Devi, Kedarnath, Chowkhamba and Neelkanth. Lovely meadows and delightful flowers of rhododendron will greet you at regular intervals. One can further trek up to 2 km to Chandrashila peak to see an incredible panoramic view of the surrounding peaks.

RUDRANATH

It is the place where Shiva's face came up the ground. A natural rock temple, situated at the height of 2,286 meters amid alpine meadows and thick forests of rhododendrons, is where Shiva is worshipped as 'Neelkanth Mahadev'. Many sacred kunds (pools) such as Surya Kund, Chandra Kund, Tara Kund and Mana Kund exists around the temple. Fabulous peaks of Nanda Devi, Nanda Ghunti and Trishul form an amazing backdrop. The trek involved is considered harder to reach as compared to other Panch Kedar temples. Most of the treks leading to Rudranath start from various points in Gopeshwar (in Chamoli district) and can stretch up to 20 km.

MADHYAMAHESWAR

At the height of about 3,289 meters, Madhyamaheswar is the place where, it is believed, the middle or navel part of Shiva emerged. The temple lies in a beautiful green valley in the Mansoona village of Garhwal Himalayas and is encircled by spectacular snow-covered peaks of Kedarnath, Chaukhamba and Neelkantha. Trek to Madhyamaheswar can be undertaken from Uniana, which is around 18 km from Ukhimath. The trek is 19 km (approx.) long and can be easily travelled till Bantoli (some 10 km from Uniana); from Bantoli the slope becomes steeper and a little difficult.

Bantoli is also the place where Madhyamaheswar Ganga merges with Martyenda Ganga. The verdant forest; the beautiful wildlife, including the endangered Himalayan monal pheasant and Himalayan musk deer; waterfalls; and surrounding peaks makes this trek a truly memorable one.

KALPESWAR

In the Kalpeshwar temple, Lord Shiva's hairs (jatas) appeared, as per the legend. Because of the long and tangled locks of Shiva, he is also called Jatadhari or Jateshwar. The temple of Kalpeshwar is located in the tranquil and scenic Urgam valley in Chamoli district of Uttarakhand, at an elevation of 2,200 metres. Urgam valley, mainly covered in dense forest, proffers interesting vistas of apple orchards and potato plantations on terraced fields.

Helang, located on Rishikesh-Badrinath road, is the place from where one can reach Urgam valley. From Urgam there is an easy trek of 2 km till Kalpeshwar. On the trip from Helang to Kalpeshwar one can witness the beautiful confluence of Alaknanda and Kalpganga Rivers. Being placed as such, one can easily club the two destinations - Kalpeshwar and Badrinath - in one's religious itinerary.
PANCH BADRI 14 NIGHT 15 DAYS
BADRINATH
One of the most important Hindu pilgrimage site in India, Badrinath is situated in Chamoli District in the town named after the temple. At an elevation of 3,133 m and nestled between the Nar and Narayana Mountain Ranges, this abode of Lord Vishnu is also one of the 108 Divya Desams (temples of Vishnu). The temples is believed to have been built in the 8th century by Adi Shankaracharya and have been renovated from time to time by different kings and dynasties like that of Scindia and Holkar.
The legend has it that Lord Vishnu in his incarnation as Nar and Narayana, undertook penance in an open area at Badrinath. It is also believed that his consort Goddess Lakshmi created a shelter for him in the form of a tree (Badri Tree) to protect him from adverse weather conditions. The legend also has it that the sage Narada also took up an act of penance here and recited the divine chants called Ashta Akshara Mantra (Om Namo Narayanaye). According to the Hindu religious scripture of Bhagvata Purana, Lord Vishna has been undertaking the great penance since time immemorial for the welfare of all living beings.
YOGDHYAN BADRI

Yogdhyan Badri is situated in the Pandukeshwar Village, which is at a short distance away from Hanuman Chatti and Govind Ghat. Here the deity of Lord Vishnu presides in a meditation pose, and hence this place got its name as Yogdhyan. Pandukeshwar is situated at 1,920 m and is named after the father of the Pandvas called Pandu. Yogdhyan Badri is also considered the winter abode for the Utsava-Murti (festival-image) of Badrinath, when the main temple of Badrinath is closed. It is also said that a pilgrimage tour is incomplete without offering prayers at this place.

The legend has it that in Pandukeshwar, King Pandu took up penance and asked Lord Vishnu to cleanse him of the sin of killing the two mating deer, who were ascetics in their previous lives. It is also said that King Pandu installed the bronze statue of Lord Vishnu here and it is where the Pandavas were born and King Pandu died. Also, it is believed that the Pandavas, after defeating Kauravas in the Mahabharata war, came here to repent.

BHAVISHYA BADRI

This sacred Vishnu shrine is situated 17 kms away from Joshimath in a village called Subhain which is beyond Tapovan. As the name suggests, the place is predicted to be the future Badrinath (the prime Vishnu pilgrimage), when the evil will cast itself in the world and mountains of Nara and Narayana shall be blocked and Badrinath would become inaccessible.

The image of Narasimha (one of the incarnations of Lord Vishnu) prides in Bhavishya Badri. It is worth noting that the temple can also be reached on foot as there are no motorable roads. A trail through dense forest takes one to Bhavishya Badri. Some also believe that it is the same ancient trail that also led one to Mount Kailash and Manasarovar, along the Dhauli Ganga River.

VRIHDA BADARI

This holy Vishnu temple and one of Panch Badris is situated in Animath Village, which is situated at distance of only 7 kms from Joshimath. Vridha Badri is said to be the place where Lord Vishnu appeared in the form of an old man before sage Narada who undertook penance here. Therefore the idol presiding the temple is also in the form of an old man. It is also believed that before Badrinath was designated as one of the Chardhams, Vridha Badri was the place where the idol created by Vishkarma was enshrined and worshipped. This is also the only temple amongst the Panch Badri that remains open all through the year for performing pilgrimage.

ADI BADRI

The first temple amongst the Panch Badri, Adi Badri is situated 17 kms away from Karnaprayag near Chulakot. It is said to be the temple where the Vishnu devotees offered prayers when Badrinath became inaccessible during the winter season. Adi Badri is a temple complex which also believed to have been established by famed Adi Shankaracharya. Seven temples of this complex were built by the Gupta Rulers between 5th and 8th Century AD.

The main temple of the complex is dedicated to Lord Vishnu that is built on a raised platform with a small enclosure of a pyramidal shape. The temple has a black stone image of Vishnu, which depicts him holding a mace, lotus and chakra. According to Hindu scriptures, this temple shall be named as Yogi Badri when the Bhavishya Badri will have the same stature as that of Badrinath in future.
KUMAON YATRA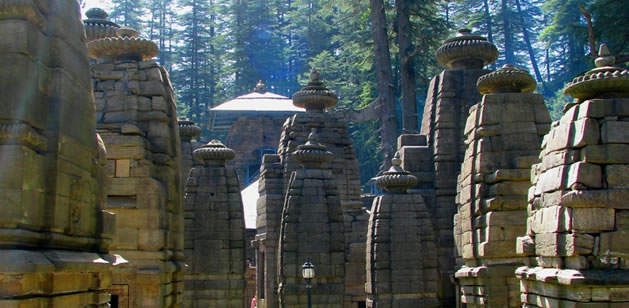 Jageshwar Temples, also referred to as Jageswar Temples or Jageshwar valley temples, are a group of over 100 Hindu temples dated between 7th and 12th century near Almora, in the Himalayan Indian state of Uttarakhand.The valley has a number of temple clusters such as the Dandeshwar and Jageshwar sites. Some locations have attracted construction of new temples through the 20th-century. Together these clusters over the valley consist of over 200 structural temples built from cut stone. Many are small, while a few are substantial. They predominantly illustrate North Indian Nagara style of architecture with a few exceptions that show South and Central Indian style designs, many are dedicated to god Shiva, while others in immediate vicinity are dedicated to god Vishnu, Shakti goddesses and Surya traditions of Hinduism.
Jageshwar is a Hindu pilgrimage town and one of the Dhams (pilgrimage region) in the Shaivism tradition. The site is protected under Indian laws, and managed by the Archaeological Survey of India (ASI). It includes Dandeshwar Temple, Chandi-ka-Temple, Jageshwar Temple, Kuber Temple, Mritunjaya Temple, Nanda Devi or Nau Durga, Nava-grah temple, a Pyramidal shrine, and Surya Temple. The site celebrates the Jageshwar Monsoon Festival during the Hindu calendar month of Shravan (overlaps with July–August) and the annual Maha Shivratri Mela (Shivratri festival), which takes place in early spring.
There are other Hindu temples in the Himalayan region that are called Jageshwar Temple such as one in Dalash, Himachal Pradesh
CHITAI GOLU
Golu Devta or Lord Golu (Garhwali: गोरिल देवता) is the legendary God of the Kumaun and eastern Garhwal region of Uttarakhand state of India and is their deity (predominantly Kumaon). In eastern Garhwal, he is worshipped as Goril Devta.
The Chitai Golu Devta temple is the most celebrated temple dedicated to the deity and is about 4 km (2.5 mi) from the main gate of Binsar wildlife sanctuary & about 10 km (6.2 mi) from Almora.[1]
The other famous temple is located near Bhowali, next to the Sainik School, Ghorakhal.
Golu dev used to travel far distances on his horse and used to meet people of his kingdom, Golu Darbar used to take place and Golu Dev used to hear the problems of the people and help them in any way possible, he had a special place for people in his heart and he was always ready to help them, due to his complete dedication to people, he led a very simple life and lived his life on the principles of brahmacharya.
Golu dev still meet with his people and in many villages the practice of Golu darbar is still prevalent, where Golu dev appear in front of people and listen to their problem and help people in every way possible, the most common form of Golu Dev Darbar these days is Jagar.
Golu Dev always had a special place for his White horse in his heart, he still do love his horse. So it is believed by many that he still travels on the back of his horse .
He is the god of justice and he serves it well. That is why people worship him as The God of Justice "Jai Nyay Devta Golu apki Jai ho".
KAINCHI DHAM (NEEM KAROLI BABA)
Neem Karoli Baba or Neeb Karori Baba (c. 1900 - 11 September 1973) - known to his followers as Maharaj-ji - was a Hindu guru, mystic and devotee of the Hindu deity Hanuman.[3] He is known outside India for being the guru of a number of Americans who travelled to India in the 1960s and 1970s, the most well-known being the spiritual teachers Ram Dass and Bhagavan Das, and the musicians Krishna Das and Jai Uttal. His ashrams are in Kainchi,[4] Vrindavan, Rishikesh, Shimla, Neem Karoli village near Khimasepur in Farrukhabad, Bhumiadhar, Hanuman Gadi, Lucknow, Delhi in India and in Taos, New Mexico, USA.
PATAL BHUVNESWAR
is a limestone cave temple 14 km from Gangolihat in the Pithoragarh district of Uttarakhand state in India. It is located in the village Bhubneshwar. Legend and folklore have it that this cave enshrines Lord Shiva and thirty three koti demigods [33 types of Demigods (12 Adityas, 8 Vasus, 11 Rudras, 1 Indra and 1 Prajapati) in hindu culture]. The cave is 160 m long and 90 feet deep from the point of entrance. Limestone rock formations have created various spectacular stalactite and stalagmite figures of various hues and forms. This cave has a narrow tunnel-like opening which leads to a number of caves. The cave is fully electrically illuminated. Built by the flow of water, Patal Bhuvaneshwar is not just one cave, rather a series of caves within caves.
"He who wants to feel the presence of eternal power should come to the sacred Bhuvneshwar situated near the confluence of Ramganga, Sarayu and Gupt-Ganga." -Manaskhanda, Skandapuran, whose 800 verses refer to Patal Bhuvaneshwar
SURYA MANDIR KATARMAL
Katarmal is known for a relatively rare Surya temple, constructed by the Katyuri Kings in the 9th century CE. Katarmalla, a Katyuri king constructed this temple, which has 44 smaller temples around the main deity of Surya, which called as Burhadita or Vraddhaditya.[Other deities like Shiva-Parvathi and Lakshmi-Narayana. are also established in this temple complex. The carved wooden doors and panels were transported to the National Museum, Delhi, after an idol from the 10th century was stolen. The temple, which holds other carvings on walls and panels, was declared a monument of national importance under the Ancient Monuments and Archaeological Sites and Remains Act of 1958.[1]
GARJIYA TEMPLE
Garjiya Devi Temple is located in the Garjiya village near Ramnagar on NH 121 in Nainital district, Uttarakhand. It is 13km away from Rmanagar and 75km from Nainital. It is situated on the outskirts of the Corbett National park. It is a shakti shrine. Garjiya Devi is the presiding deity. It is situated on a huge rock in midst of river Kosi. It is one of the famous temples in the Nainital district.
Legends believe that Garjiya Devi is the incarnation of Goddess Parvati, daughter of King of Himalayas, Giriraj. On the day of Kartik Poornima, a big fair is organized at the temple. It is attended by thousands of devotees. It is a holy day celebrated on the fifteenth lunar day of the Kartik month November- December. Kartik Purnima also coincides with Guru Nanak Jayanti.
The Temple visit is open for tourists all round the year except for the monsoon season since the water level in river Kosi increases.
NAINA DEVI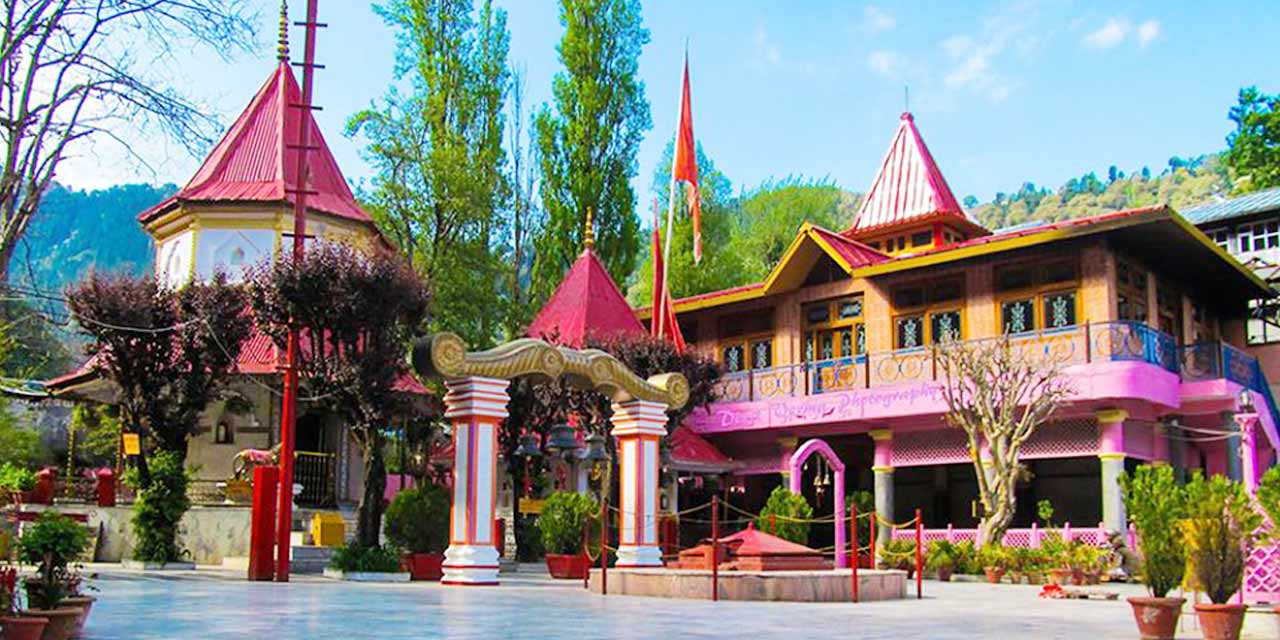 On the edges of the Naini Lake, stands the Naina Devi Temple, a famous Hindu pilgrimage site in Nainital. According to the legends, Naina Devi temple came into existence when Lord Shiva was carrying the corpse of Sati, and her eyes fell to the ground where the temple currently stands. The town, the lake, and the temple borrow its name Naina (eyes) Devi temple. Finding its ways from Kushan period, popularly known as Nanda or Naina Devi in the Kumaon region, an ancient temple is understood to have been built in 15th century AD, which might have been destroyed by a landslide. Later in 1842, the first Naina Devi idol was installed by Moti Lal Shah. However, in 1880, the temple was completely ruined because of the landslide. Soon, the temple was rebuilt again in 1883 by locals.
Inside the temple, there is a vast courtyard, towards its left is a sacred peepal tree and to the right is the temple where idols of Lord Ganesh and Hanuman are installed. The main entrance of the temple has two lion statues posted outside. Inside the main sanctum, one can do darshan of three deities- Kali Devi on the extreme left, the centre representing two Netras or eyes is Maa Naina Devi and towards the right is the idol of Lord Ganesh.
HEDAKHAN BABA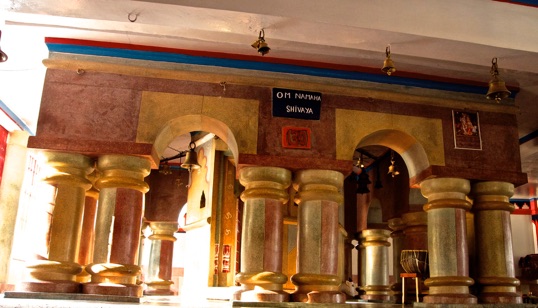 HAIDAKHAN VISHWA MAHADHAM (VILLAGE HAIDAKHAN, DISTRICT NAINITAAL)
In 1970 SHRI BABAJI appeared in the historic holy cave situated at the foot of Mount Adi Kailash at Haidakhan, Kumaon. He materialised as a youth of 18 or 20 years.
Babaji spent most of the 14 years of this manifestation at Haidakhan where he established a beautiful ashram, and built nine temples on the bank of the River Gautami Ganga. The Haidakhan area and Kumaon Mount Kailash have been spiritually graced with the power of Lord Shiva's tapasya (penance) for centuries. The main temple at Haidakhan was constructed by Old Haidakhan Baba Himself.
TRUTH, SIMPLICITY and LOVE
CHOTA KAILASH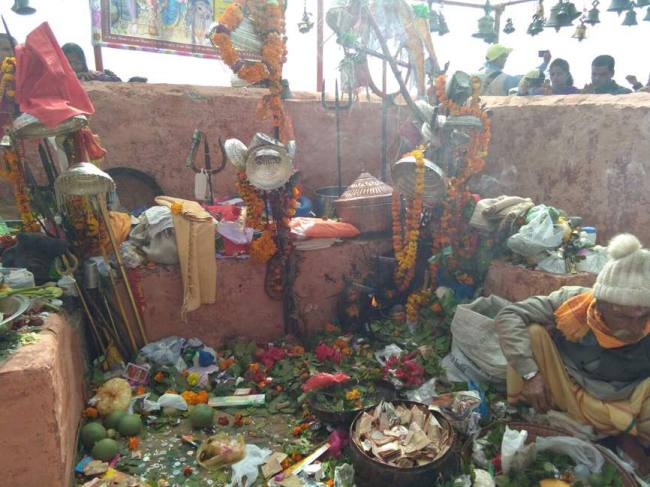 Chota Kailash Temple-
The land of Lord Shiva is known as Chota Kailash which is situated in the hills of Nainital District ( Under Bhimtal Block).
Nearby cities: HALDWANI
NAINITAL
BHOWALI
BHIMTAL